Undeclared work does not respect national borders
AKT and ALT join their efforts in the fight against undeclared work in the #EU4FairWork campaign
Undeclared work knows no borders. Social partners in the transport sector, i.e. Transport Workers' Union AKT and Employers' Federation of Road Transport (ALT), have together with other key organisations, Ministries and supervisory authorities joined the #EU4FairWork campaign organised by the European Labor Authority. The campaign shares information on measures to combat undecla-red work and why it is in everyone's interest to work legally.
Campaign period is September 21 - September 25. You can follow the campaign in the social media under the hashtag #EU4FairWork.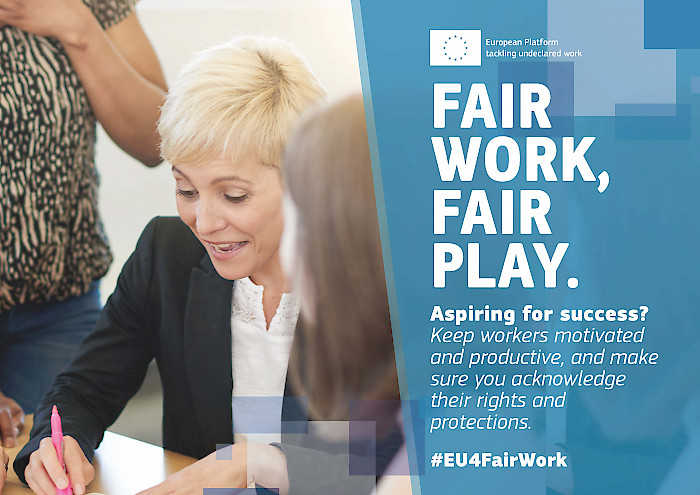 What is undeclared work?
Undeclared work is work for which wages are usually paid in cash, and the wages or part thereof is not declared to the Finnish Tax Administration. The employer does not pay the employee's social security contributions such as the employment pension, unemployment insurance and accident insur-ance premiums.
At worst, undeclared work may be manifested as severe underpayment of wages or placing a work-er at a significant disadvantage, for example by exploiting the financial distress of the employee or dependent position on the employer.
Why should undeclared work be tackled?
Everyone has the right to fair terms of employment and working conditions. Only work that has been notified to the authorities guarantees the right to social security and appropriate terms em-ployment such as pay, working hours and occupational safety and health. Fair work is not discrimi-natory and does not abuse another person's weaker position or ignorance. By declaring work, we also build our common security and the public services required by citizens and companies.
According to the observations made by several different authorities, the number of undeclared workers in Finland has been on the rise over the past two years. For example, this is revealed by an increase in contacting the occupational safety and health authorities and the observations made by the authorities when conducting inspections at workplaces.
How is undeclared work tackled in Finland?
We should all join our forces in the fight against undeclared work. Companies hiring undeclared workers with lower labour costs receive an unjustified competitive advantage over other companies in the same industry. Those placing orders for transportation services play a crucial role in the fight against undeclared work.
The prevention of undeclared work is part of the programme tackling the grey economy and eco-nomic crime.
If you have information about undeclared work, you can submit a confidential tip to the labor in-spectorates by using the online form.
Employee:
Make sure your employer reports your work to the authorities and that your salary is paid into a bank account. Work only work with a tax deduction form (tax card), and always require a payroll statement. Remember also to require a written employment contract or a written statement outlining the terms and conditions of the employment relationship. In the payroll, you can see that your salary is subject to relevant taxes and social security contributions.
Employer:
Take care of your employees as they take care of your customers. Attract the best employees with a legitimate and ethical corporate culture.
Take great care of your reputation - it's an asset for the company, its employees and partners.
Be reliable and report employees and incomes correctly.
How is undeclared work tackled in the EU?
The prevention of undeclared work is a political priority for the European Union. In summer 2019, the European Labour Authority (ELA) was established to step up efforts to tackle undeclared work and abuses in cross-border situations. The ELA promotes awareness of the EU's movement provi-sions among companies and workers, better implementation of the provisions, and cross-border co-operation and monitoring by the authorities.
#EU4FairWork campaign
In Finland, the campaign will involve a comprehensive network of participants, including ministries, supervisory authorities and organisations: Ministry of Economic Affairs and Employment, Ministry of Justice, Ministry of Social Affairs and Health, Ministry of the Interior, Ministry of Finance, Po-lice, Finnish Immigration Service, the occupational safety authority i.e. the Occupational safety and health divisions at the Regional State Administrative Agencies, Finnish Tax Administration, Finnish Centre for Pensions, Centre for Occupational Safety, Confederation of Finnish Industries EK, Con-federation of Finnish Construction Industries RT, Suomen Yrittäjät ry, Finnish Hospitality Associa-tion MaRa, Confederation of Unions for Professional and Managerial Staff in Finland Akava, Ser-vice Union United PAM, Finnish Construction Trade Union, Central Organisation of Finnish Trade Unions SAK, Finnish Confederation of Professionals STTK, Transport Workers' Union AKT, Em-ployers' Federation of Road Transport ALT, European Institute for Crime Prevention and Control HEUNI, Kela and KT Local Government Employers.
Inquiries:
Päivi Kantanen, Ministerial Adviser, Ministry of Economic Affairs and Employment, tel. +358 295 048 938
Anna Rissanen, Communications Specialist, Ministry of Employment and the Economy, tel. +358 29 504 7052
The Grey economy & economic crime website: Users of undeclared workers conceal the work to avoid their employer obligations https://www.vero.fi/en/grey-economy-crime/phenomena/undeclared-labour/
Campaign period is September 21 - September 25. You can follow the campaign in the social media under the hashtag #EU4FairWork.